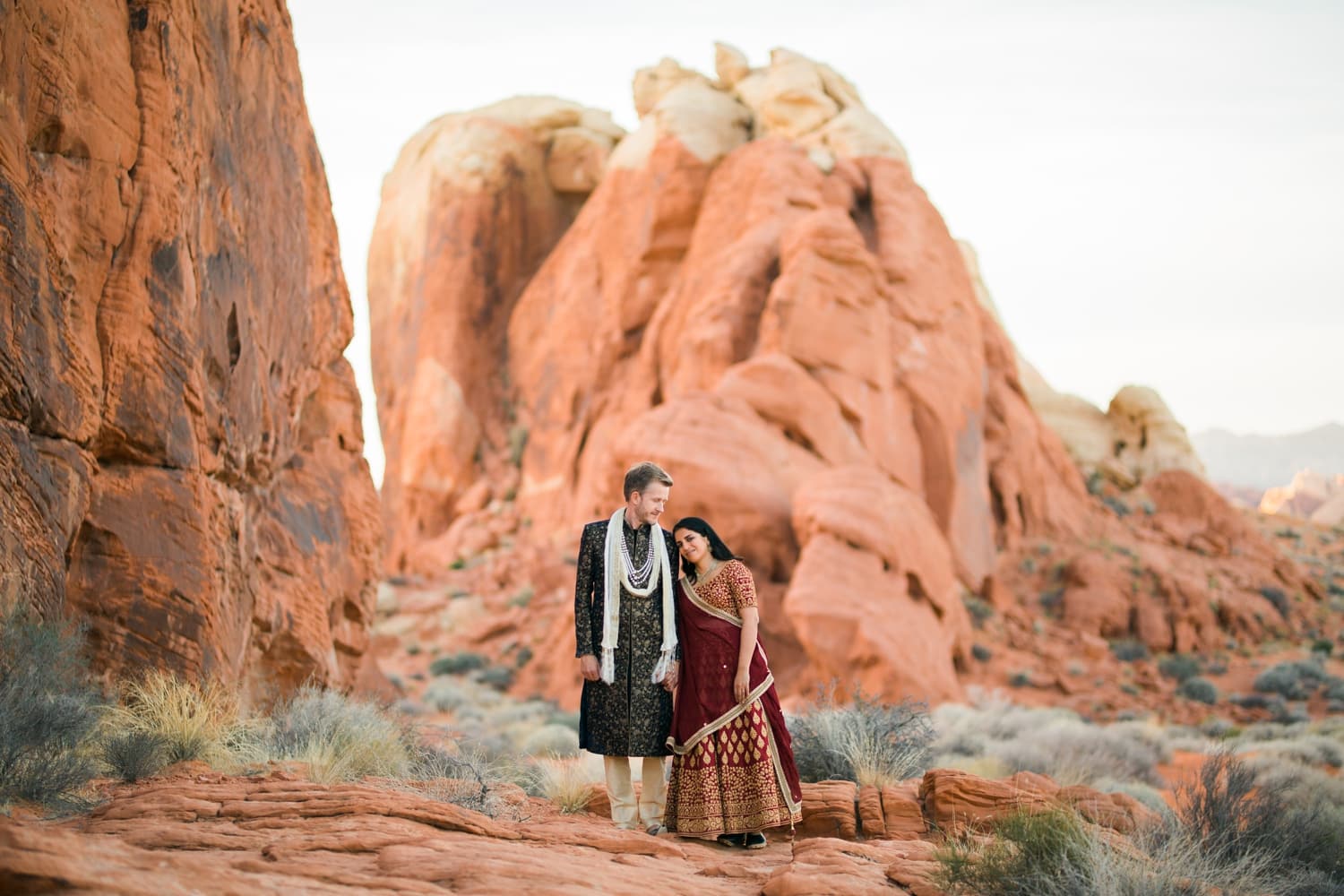 Last year around this time I ran an adventure wedding giveaway and was contacted by Roshni + Christer. After reading a bit about them, I knew I had to learn more about them and their wedding. When I ran my giveaway, I was looking for a couple doing something a bit out of the ordinary and whom I could relate to. Roshni is originally from the States and Christer from Denmark, but they met while traveling. They have been living in various countries all over the world since meeting. What drew me to choose Roshni and Christer to win my giveaway was how kind they were when I met them over skype, and how they shared my love of traveling and experiencing different cultures.
They decided to have a desert wedding, based at Roshni's aunts house just outside of Las Vegas, Nevada. I was thrilled when we planned to photograph the wedding on Saturday and then spend an hour in the Valley of Fire on the Sunday as a little day-after adventure session. This was a dream couple and location to shoot, and couldn't wait to tell them that they were the lucky winners!
I had the privilege of staying with the families for three full days, and we spent time playing games, enjoying amazing food, and generally having amazing conversations. It was fascinating to hear that Roshni was a negotiator for the government, which had her placed in different countries for 1-2 years at a time. It sounded like incredibly challenging work, but the places she got to live and experience had me green with envy.
After playing a game of Kubb with their friends and families Saturday morning, it was time for their wedding ceremony. They both wore traditional Indian dress, and both the red and royal blue colouring was spectacular in the desert setting. They had a traditional Indian ceremony, with Roshni's uncle explaining each step to those that didn't know each significance. The ceremony was filled with love, colour, and tradition, and I loved every minute of it.
After the sunset ceremony, their guests ate and danced the night away. One of Roshni's cousins who is a very successful chef, made incredible Indian dishes. There was also traditional Bollywood dancing with the bridal party performing a choreographed routine.
The next day we headed to the Valley of Fire for a sunset day-after adventure session and it was incredible. As soon as we got to the canyon, I immediately wished I could photograph them for days! Sadly we only had just over an hour, but we had a blast wandering around and taking pictures. It was spectacular scenery and a vast difference from the cool blue mountains I am used to in Alberta. I was so thrilled to be a part of their day and was so stoked on how well my adventure wedding giveaway ended up working out!
Now for some exciting news… I'll be doing another giveaway this year – this time for a full adventure elopement! Stay tuned for this announcement and, in the mean time, enjoy the photos from Roshni + Christer's Nevada desert wedding!